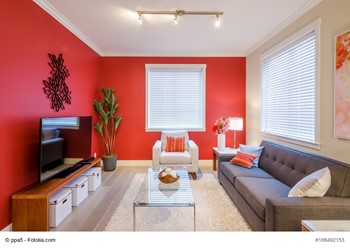 One exciting part of moving into a new home is dreaming up all the ways you will redecorate and make it your haven. Here's a guide to picking the perfect paint colors and types for a gorgeous home.  
Part of choosing a great color selection is understanding what makes your colors work together so well. You want to pick and stick to one of three color schemes.
Here's a quick art lesson for today:
Analogous colors are next to each other on the color wheel. These colors when used together allow one color to really stand out.
Monologous colors are shades in the same color family. This color scheme creates a soothing, calm feel to a room.
Complementary colors are opposite one another on the color wheel. The colors in this type of color scheme balance each other equally.
Before heading to the home improvement store for some paint samples it's best to have the rest of your room's decor picked out first. Once you have furnishings and accessories picked out you can find a shade for your walls that will tie the entire room together.
A general rule of thumb is:
If you choose a bright or vibrant color for your furniture, choose a neutral shade for your walls.

If you choose neutral colored furnishings you can bring in a bright, vibrant color for your walls.
When designing your entire home it's best to think of the overall design scheme cohesively. Not every room needs to look the same or have the same colors. However, it should feel like a natural flow and progression as you move from room to room.
Now that you know your colors you're ready to pick out your paints.
Have you ever wondered why there are so many paint sheen options? And if there is someone out there painting their house entirely with high gloss paint?
While I cant answer the latter question the answer to the former is this: the glossiness of paint directly affects how easy it is to clean.
Here a general guideline of where to use which type:  
High gloss should be used for high traffic areas that come into a lot of contact. Think railings and furniture. High gloss can be more costly per gallon but worth the relatively small investment in the long run.
Semi-gloss is great for places that come into contact with a lot of moisture. These are areas like cabinets and trim.
Satin sheen is great for bathroom and kitchen walls. It's a great balance between a gloss and the matte finish many prefer for their walls.   
Eggshell is perfect for bedrooms and other rooms where they aren't likely to meet as many messes or moisture as the bathroom and kitchen.